"That's right. George Soros — the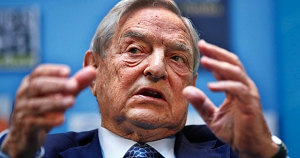 financier of global fascism — is
pumping millions of dollars into the same Article V campaign that is being promoted by Mark Levin, Rush Limbaugh, Sean Hannity, Glenn Beck, and other popular conservative spokesmen."
"This should be enough to convince all true conservatives, constitutionalists, and friends of liberty to run headlong away from the ranks of the Article V con-con army, regardless of how popular and persuasive their generals may be."
"It will likely surprise these devoted, but deluded, Article V advocates that Wolf-Pac is just the tip of the iceberg. These good people would be wise to take a look at this heavily abbreviated roster of their radical fellow travelers in the con-con movement, each of which is a registered "founding member" of the "Move to Amend" coalition.
Alliance for Democracy
Center for Media and Democracy
Code Pink
Independent Progressive Politics Network
Progressive Democrats of America
Sierra Club
Vermont for Single Payer
Mind you, hundreds more groups "committed to social and economic justice, ending corporate rule, and building a vibrant democracy" are gathered under this umbrella."
Any of our state representatives who support an Article V Constitutional Convention, aka: Con-Con, is a direct threat to Wyoming and our country.
Read the full article here:
http://thenewamerican.com/usnews/constitution/item/17402-socialists-and-soros-fight-for-article-v-convention