by Mike Pyatt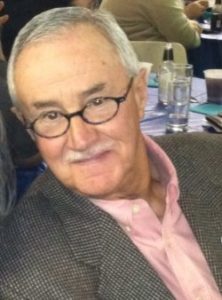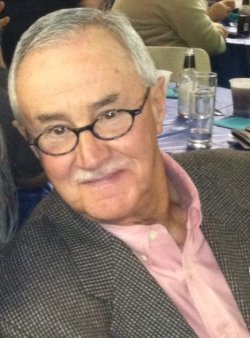 Recent Pew Research poll indicates over 90 % of the adult population celebrate Christmas. A majority polled still believe in the Virgin Birth of Jesus Christ. Pagans must be in short supply. Our Christmas range of celebration is extreme and complex in America. Hardly monolithic. Some choose to ignore it. A small minority find it irksome. Perhaps they too are duped by the commercialization; and the ensuing remorse. For many it's the exchange of gifts, family gathering, a festive, hardy meal, then it's back to the routine, in a mad dash to New Year's celebration. Some find the prelude to Christmas, and the attendant glitz as their gala attraction. For a contingent "decking the halls" to the hilt is their buzz. Those with young children anticipate reading "The Night Before Christmas," as it has since it was first published anonymously in 1823. Written by Clement C. Moore, it's arguably the best known Christmas poem for children. Its original title, "A Visit from St. Nicholas," was first read to his family in 1822.
Ethnic background influences the form, and length of celebration. Geography plays a role. A snowy sleigh ride in Palm Beach, Florida is daunting. Church affiliation may hold sway in the matter. Choirs assiduously practice to present their unique cantata, a serenade to their congregation, a habitude of Christmas. We've heard someone plaintively opine, "If only the Spirit of Christmas lasted all year long?" Is that possible? What about the "The Night after Christmas?" Where does it go? Does it go back into boxes with the decorations? Or up the chimney with the smoke? Does it vanish ethereally until next year?
Christmas can't resist George Frederic Handel's "The Messiah," originally written for Easter, that's universally considered as the opus of musical composition. None other than Beethoven himself, reportedly once said of Handel, "To him I bend the knee, for Handel is the greatest, ablest composer that ever lived." To the multitudes who've experienced his "Messiah" over the generations-we agree with Beethoven. It will be performed world-wide-from The Queen's Hall in Australia, to the New York Philharmonic at Carnegie Hall, to King's College in Cambridge-and nearly every major city, from Baltimore to not-so-major cities as Casper, Wyoming. Considered a musical rite of the Christmas season, the Baroque era oratorio still inspires listeners 257 years after the composer's death. Many recall the "Hallelujah Chorus." It's undeniably a fixture of Christmas.
For young and old, the recitation of St. Luke's biblical account is a soul-stirring, unparalleled story of God, Incarnate, that all who'll embrace Him, shall find life eternal. Luke 1:79, portends a penetrating and everlasting promise for we dwellers on this revolving orb, "To give them light that sit in darkness and the shadow of death, to guide our feet into the way of peace." It's a reminder of Him who came to us long ago, as a Babe in a manger. He still casts His redeeming shadow on this world. Our grasp of the true meaning of Christmas is inextricably linked to our own stake in heaven.
For those whose taste for Christmas music is more contemporary, one may appreciate Josh Groban's traditional CD "Noel." Or Kenny Rogers' "The Gift." Perhaps Sawyer Brown's "Hallelujah He Is Born." Their poignant lyrical fashion, point us to the "Reason for the season." "Jingle Bells," "Rock Around the Christmas Tree," "Holly Jolly Christmas," or "Blue Christmas," may tickle the ears-but doesn't stir the soul. "Silent Night" "O Holy Night," "The First Noel," and "Joy To The World," still extol His worth to one's soul. The "magic" of Christmas is the Spirit of Christmas. December, 1956, Harry Belafonte's "Mary's Boy Child," charted on the top ten hit parade.
Can one summarily dismiss the most compelling story in history? It's true, Christmas has jumped the banks from Christianity, where pagan and believer celebrate the day. For those who repine that Christmas is compulsory-they've already missed it. The coming of a Savior that was foretold by Isaiah more than 700 years before His birth. Emmanuel-God with us. The enormity of that event has been subordinated largely by the crass commercialism of our time. However, it doesn't invalidate the truth one iota. As followers of Jesus Christ, we should proclaim the good news, understanding our eternity pivots upon this historical fact.
Humbug to politically correct institutions that trifle with Christmas, calling it "Winter Break," or "Season Intercession." While "Happy Holidays" stems from the Old English, "Happy Holy Days," it bears no resemblance to our current vernacular. No jousting required. Just the temerity to wish others a joyful Merry Christmas. Prince, president or royalty gain no greater joy than the pauper. To scoffer, naysayer, or "scrooge," don't miss the meaning of Jesus Christ birth another year. It's far worse than a lump of coal in your stocking. He left the glory of heaven, shattering the shackles of sin we've personally forged, fitting us to be ushered into the glory of heaven one day.
Christmas's a time of "new beginnings." Regardless of one's palate for Christmas music, or station in life, what else can one proclaim but "Hallelujah!" Handel was right. There's majesty in expressing a "heart felt" Merry Christmas. After the gift exchange, pageantry, and buyers' remorse, where does Christmas go? Is it a matter of the heart? What do you think?
Mike Pyatt's a resident of Natrona County. His email's roderickstj@yahoo.com