WikiLeaks has provided a treasure trove of inside information on what Hillary Clinton really thinks about important issues such as trade and immigration, but Clinton herself has chosen not to answer questions about the revelations.
She has focused instead on criticizing the Russians as the source of the hacks, despite the fact there is no proof of Russian involvement.
The emails also shed light on how the Clinton campaign interacts with Wall Street banks, with friendly media, and how it worked to undermine the candidacy of Democratic rival Bernie Sanders with the help of the DNC.
WikiLeaks says it has about 50,000 emails from the private Gmail account of John Podesta, a senior Democratic Party official who has served as White House chief of staff under President Bill Clinton and a senior adviser to President Obama. He was the author of Obama's climate change policy.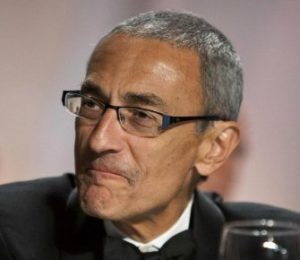 In February Podesta moved seamlessly from the White House to become chairman of Hillary Clinton's 2016 presidential campaign.
Here are some of the most explosive revelations from the WikiLeaks email dumps featuring Podesta's account and others.
Preference for Muslim Americans
In 2008, when Podesta served as co-chair of President-elect Barack Obama's transition team, Michael Froman, a former Citibank executive, sent Podesta a "list of African American, Latino and Asian American candidates, broken down by Cabinet/Deputy and Under/Assistant/Deputy Assistant level, plus a list of Native American, Arab/Muslim American and Disabled American candidates." The Arab American list came with a special note to exclude Arab Christians – they had to be both Arab and Muslim. As New Republic reports, Obama's eventual cabinet appointments ended up almost entirely as Froman recommended. Froman ultimately became the recipient of the largest bailout from the federal government during the financial crisis.
Shielding Obama
In a March 4, 2015, email to Hillary Clinton's lawyer Cheryl Mills, Clinton's eventual campaign chairman Podesta asks if they should withhold email exchanges between Clinton and President Obama that were sent over Clinton's private server.The day before Podesta sent his email to Mills, the House Benghazi Committee privately told Clinton to preserve and hand over all her emails.The email from Podesta to Mills says: "Think we should hold emails to and from potus? That's the heart of his exec privilege. We could get them to ask for that. They may not care, but I(t) seems like they will."
An email exchange between Podesta, Paul Begala, and Clinton pollster GQRR shows the Clinton campaign was pushing the Muslim Obama narrative back in January 2008. Included was a survey of Obama "negative facts" such as this one: "Obama (owe-BAHM-uh)'s father was a Muslim and Obama grew up among Muslims in the world's most populous Islamic country." The pollster writes "we have reworked the Obama message into the survey, as requested."
Secret speeches to Wall Street
Hillary Clinton was so enraged that Bill Clinton was forced to cancel a paid speech at Wall Street bank Morgan Stanley in 2015 that she "needed a cool down period." The email chain, on March 11, 2015, before she formally launched her campaign, includes top aides to both Hillary Clinton and former President Clinton, and reveals that Hillary's future campaign aides were concerned about the political impact of Bill giving a speech to a Wall Street bank. "Morgan Stanley is coming down," wrote Robby Mook in an email to top Clinton aides.Top aide Huma Abedin explained that Hillary would not be happy about it, writing: "HRC very strongly did not want him to cancel that particular speech. I will have to tell her that [Bill] chose to cancel it, not that we asked."
Hillary Clinton's paid speeches to Goldman Sachs and other financial firms, a point of contention during this year's primary, were the subject of an email to Podesta. Excerpts from some of the speeches had been flagged by Clinton's research team, including the necessity of having "both a public and a private position" on issues. It was just part of "making sausage" in the political arena, she said, that certain positions on issues needed to be kept hidden from the public.
Some "flags" in Hillary Clinton's paid speeches were noted in a Jan. 25 email from campaign research director Tony Carrk to top Clinton advisers, including Clinton's declaration that "My dream is a hemispheric common market, with open trade and open borders, some time in the future with energy that is as green ·  and sustainable as we can get it, powering growth and opportunity for every person in the hemisphere." Countless establishment media outlets parlaying themselves as "fact checkers" tried to downplay this email by saying it was "mostly about trade," not immigration, as if the words "open borders" were never mentioned. But the email exchange also shows how Hillary's about-face on the TPP trade deal was mere pandering to Bernie Sanders' voters and had no basis in reality in terms of how she really feels about trade deals.
In a speech at Goldman-Black Rock on Feb. 4, 2014, Carrk pointed out, Clinton admitted she's "Kind Of Far Removed" from middle-class struggles due to "The Economic, You Know, Fortunes That My Husband And I Now Enjoy." Clinton, in other speeches, boasted of her ties to Wall Street, an issue primary opponent Bernie Sanders continually raised. Clinton still has refused to release transcripts of her paid speeches while blasting Donald Trump for not releasing his tax returns.
Clinton also told Goldman Sachs bankers that Americans who want who want to limit immigration are "fundamentally un-American."
Working in tandem with 'friendly' media
WND reported Tuesday emails showing reporters, editors and contributors
Democratic National Committee official and CNN contributor Donna Brazile apparently tipped off the Clinton campaign to a potentially difficult CNN town-hall question on capital punishment during the Democratic Party primary season. Brazile adamantly denies it.
In a July 2015 email, New York Times reporter Mark Leibovich appeared to ask permission from Hillary Clinton's communications director, Jennifer Palmieri, to use certain quotes of the presidential candidate in an article. Palmieri replied, suggesting he remove a reference Clinton made to Sarah Palin and delete Clinton's statement, "And gay rights has moved much faster than women's rights or civil rights, which is an interesting phenomenon."
CNBC correspondent John Harwood, who was widely criticized for posing biased questions to Donald Trump as a primary debate moderator, effectively served as an adviser to the Clinton campaign, emailing Podesta with the subject line "Watch out." The warning was regarding GOP presidential candidate Ben Carson, who "could give you real trouble in a general (election)."
Maggie Haberman, a former Politico reporter who now works for the New York Times, was described in a January 2015 memo as having "a very good relationship" with the Clinton campaign. "We have had her tee up stories for us before and have never been disappointed," the memo said.
Demeaning Catholics
Podesta discussed fomenting "revolution" in the Catholic Church with a progressive activist while Hillary's now-communications director Jennifer Palmieri mocked Catholics who speak out against the liberal social causes of the Democratic Party.
"There needs to be a Catholic Spring, in which Catholics themselves demand the end of a middle ages dictatorship and the beginning of a little democracy and respect for gender equality in the Catholic Church," Sandy Newman, president and founder of the nonprofit Voices for Progress, wrote Podesta in February 2012. The email, among the third batch released by WikiLeaks, was titled "opening for a Catholic Spring? just musing." Podesta tells Newman of progressive organizations he and his colleagues created to recruit members of the church who can lead a revolution when the time is right."We created Catholics in Alliance for the Common Good to organize for a moment like this," the Clinton campaign chairman writes. "But I think it lacks the leadership to do so now. Likewise Catholics United. Like most Spring movements, I think this one will have to be bottom up."
Clinton, who has accused Trump of praising Putin, called the Russian leader in a 2014 speech "engaging" and "a very interesting conversationalist." Excerpts from Clinton's speeches were contained in a document emailed to Podesta to point out quotes that could harm the campaign.
Collusion with DOJ
Clinton spokesman Brian Fallon alerted ·  staffers that the Justice Department was proposing to publish Clinton's work-related emails, contending it showed collusion between the Obama administration and Clinton's campaign. Fallon wrote that "DOJ folks" told him a court hearing in the case had been planned.
Entanglements with foreign governments
King Muhammad IV of Morocco made a $12 million pledge to fund the Clinton Global Initiative conference, but only if the likely presidential candidate attended the event as a speaker. Hillary's top aide, Huma Abedin, wrote in a January 2015 email that "if HRC was not part of it, meeting was a non-starter." Then she warned: "She created this mess and she knows it." Hillary ended up not attending but her husband Bill did.
An email from Hillary Clinton's account to Podesta on Aug. 17, 2014, said Saudi Arabia and Qatar were "providing clandestine financial and logistic support to [ISIS] and other radical Sunni groups in the region." Critics have pointed out that the Clinton Foundation has received considerable funding from the two Middle East nations.
In a leaked 2013 paid speech to the Jewish United Fund of Metropolitan Chicago, Hillary said Jordan and Turkey "can't possibly vet all those refugees so they don't know if, you know, jihadists are coming in along with legitimate refugees." Two years later she called for a 550 percent increase in the number of Syrian refugees coming to the U.S. largely from United Nations refugee camps in Jordan.
Insider's insider had sway over DNC
A WikiLeaks email dump on July 22 revealed that Debbie Wasserman Schultz used her position as head of the DNC to work in concert with the Clinton campaign to undermine the candidacy of Sen. Bernie Sanders, D-Vt. Schultz was forced to resign over the emails. Issues used to undermine Sanders' campaign included his faith, or lack thereof.
The Clinton campaign tried to reschedule the Illinois presidential primary to lower the chances a moderate Republican would get a boost following the Super Tuesday primaries. "The Clintons won't forget what their friends have done for them," wrote Robby Mook, who later became Clinton's campaign manager, in the November 2014 email to Podesta.